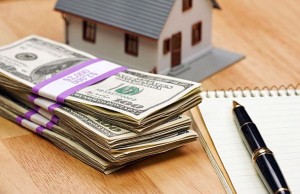 One of the requirements of buying a home is putting at least a portion of the sales prices down before closing. In many cases, you may be required to put down as much as 20 percent of the purchase price, but this may vary depending on the type of loan you are getting. Knowing the type of loan you are applying for and your current credit profile will help you figure out how much you have to have for the down-payment. For instance if you get an FHA loan your down-payment can be as low as 3.5%.
Determine the Purchase Price of the Home
The first step to determining your down payment is estimating the purchase price of the home. If you are required to put 20 percent down, and the purchase price is $100,000, you would be required to put down $20,000. If you were using a nontraditional loan that only required a 10 percent down payment, you would be required to put down $10,000 to purchase a home of $100,000. It's important to look for homes only within your budget so you can put the amount down needed.
You Don't Necessarily Have to Make the Payment on Your Own
Just because a lender requires you to make a down payment doesn't mean it needs to come from your own wallet. In some cases, a parent or friend may be able to make the payment for you. This is common when it comes to FHA loans or other government-backed loans aimed at first-time home buyers or those who are considered to be low-income. Therefore, you need to determine how much of the down payment you are making and how much will come from another source. Even if it's coming from a family member, it's important to have written contracts stating if and how the loan will be paid back to them to avoid future problems.
FHA or Conventional Loan?

Everyone talks about first home buyers getting an FHA loan but if you have a good credit rating it might be better to get a conventional loan. The purpose of an FHA loan is to allow people who would otherwise not be able to get a loan to buy a house i..e. those with poor or no credit rating. But it comes at a price.  Often the down-payment for an FHA loan is higher than for a conventional loan and you have to pay mortgage insurance for the life of the loan. If you have a good credit rating however, you might qualify for a conventional loan with a lower down-payment and the option to discontinue mortgage insurance once your equity in the home reaches 20% of the amount of the loan.  If you work with a professional mortgage broker such as Premium Mortgage Corp they will help you to find a mortgage loan that fits your needs and budget which may save you more than by simply going with an FHA mortgage. Mortgage brokers deal with a variety of lenders to find terms that you can qualify for. A mortgage broker can also work with you to develop a budget and help you figure out how much of any down payment you would be responsible for before you apply for a loan.
Buying your first home can provide you with a sense of accomplishment and allow you to begin the next chapter of your life. However, you need to make sure that you can afford the down payment without going house poor. By talking with a broker and understanding more about the terms of the loan that you are applying for, you can estimate your down payment with ease and confidence.