If you feel that your mortgage is more expensive than it needs to be, you may want to consider refinancing. This may make it possible to get a lower interest rate, remove private mortgage insurance payments or otherwise reduce your monthly payments. What are some issues to consider prior to refinancing a mortgage to make sure it is the right move for you?
Would You Qualify To Refinance Your Loan?
When you refinance your mortgage, you are asking your lender to essentially write a new loan. Therefore, the lender is going to check your credit, assess the value of the home and possibly ask for a down payment. There may also be closing costs that you need to pay as well. If your credit score isn't great, your home has decreased in value or you can't afford closing costs, it may be a good idea to hold off on refinancing until your financial situation improves.
Can You Get A Better Interest Rate?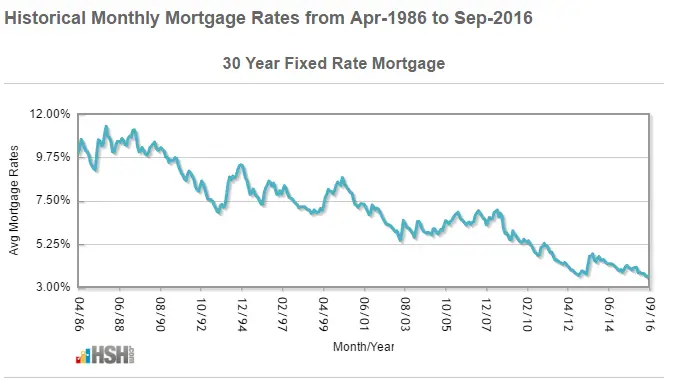 In the above chart from HSH.com  we see that since 1986, 30 year mortgage rates have been in a general downtrend (with occasional short term up moves). During this time, the most common reason why people refinanced a loan was to get a better interest rate. The general rule of thumb has been if you can save 1% on your rate it pays to refinance. If you can't lower your rate by that amount, you may want to reconsider whether opting to refinance is in your best interest. This is true even if renegotiating the terms of your home loan would remove private insurance or other fees. However, often you can remove mortgage insurance without refinancing once your equity exceeds 20% of the value of the loan.
What Type Of Loan Would You Refinance To?
If you have a fixed-rate loan today, it may not make sense to opt for a variable rate loan even if it is lower than what you pay today. Those who have an FHA or USDA loan may not want to refinance to a traditional mortgage if they have less than 20 percent equity as they may need to make up the difference by putting additional money down. It is also quite possible that we have seen the bottom and mortgage rates will begin working their way higher for years to come.
Don't Forget To Work With A Qualified Loan Officer
Deciding whether or not to refinance is always easier when you're working with a professional. Assurance Financial Group suggests that another reason to consider refinancing is if you can substantially reduce the term of your loan. In other words, if you can go from a 30 year to a 15 year or from a 15 year to a 10 year loan.
If you are thinking about refinancing your mortgage, it is in your best interest to think about all of the factors that go into the decision. Make sure that you can get a lower interest rate and that you work with a qualified loan officer. Doing so may avoid paying too much in closing costs, which could offset the savings realized by a lower monthly payment.
You might also like: