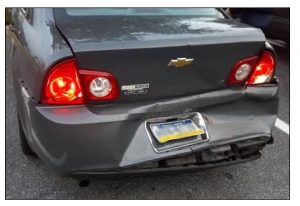 Unfortunately, fender benders are too often a part of owning a vehicle. While generally less costly than more damaging collisions or accidents, fender benders can cost more than you might expect. Depending on the vehicles involved (e.g. an SUV and a 4-door sedan) even minor damages can be in the thousands to have professionally repaired.
Physical Damages
Every modern vehicle has front and rear bumpers, but when two bumpers are different heights, there can be an increase in the amount of damage caused. The Insurance Institute for Highway Safety (IIHS) tested a sedan rear-ending an SUV, and the result was almost $4,000 in damages caused to the sedan, with over $6,000 to the SUV.  The experts at Chehalis Collision Center say that although damages may seem minimal or almost non-existent, the lack of visible damage is not always a clear indicator of the true extent. For instance, many vehicles have an aluminum tube connecting the A/C to the radiator. Simply jumping a curb can break that tube resulting in hundreds of dollars in damages but the front of the vehicle could be without a scratch.
Insurance Costs
Every state has different regulations around accident reporting, which can be as low as $500 worth of property damage. Additionally, it's not always possible to determine the true vehicular damages or physical injuries at the time of the accident. Although reporting to your insurance company in a timely fashion is advised, there can be further costs down the road when it comes time to renew. Insurance providers look at the history of losses tied to your policy, and can determine that your risk may require more premium dollars to cover.
Personal Injuries
During an accident, adrenaline surges through the body and can cover up injuries or symptoms at the time. Certain injuries, like soft-tissue damages, can take up to 48 hours to show themselves. A medical professional should always be involved in determining the extent of injuries, because false injury claims can result in large financial costs down the road. Make sure to report any accidents to your insurance carrier, because the carrier may be less likely to cover a claim that is reported late.
Fender benders can have more costs associated with them than you first realize, from property damage and physical injuries to insurance costs that can last for years afterwards (usually in your premium payments). Not every cost is easily determined at the time of the accident, though property damages alone can easily be in the thousands of dollars. After any fender bender, contact your insurance provider and discuss the situation, they should be able to advise you on how to proceed.