Bankruptcy can be both financially and emotionally devastating. While you may be feeling a sense of financial relief because you no longer have creditors breathing down your neck, you may also be reeling from the emotional impact of the lengthy legal process and the many months of financial stress leading up to your decision to file for bankruptcy. Now that your bankruptcy process is underway or has been completed, you may be wondering what steps you can take to get your life back on track.
Take Control of Your Finances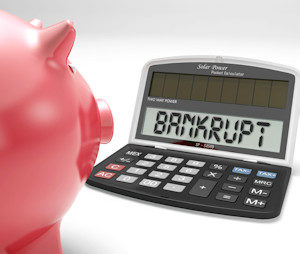 One source of stress after bankruptcy will be your finances, and you can most easily deal with this stress by combatting the issue head-on. After you have filed for bankruptcy, you may feel unsure about your ability to properly manage your finances, so take time to research financial tips. The purpose of bankruptcy is not to allow you a "get out of jail free card" but instead to give you an opportunity to get your life in order. A good lawyer "will study your situation and tailor a plan that fits you and your family's needs." Take advantage of this opportunity, use community resources to learn more about budgeting. Create a rainy day savings fund, and set up automatic transfers to slowly increase the balance of this account. These initial steps will help you to regain confidence and get your finances shored up.
Understand and Protect Your Rights
It can be challenging to get qualified for a new loan, to rent an apartment and to do other activities that require credit after bankruptcy. You may have many questions and concerns about your rights after bankruptcy. When in doubt, always seek legal advice from an attorney. By doing so, you can make more educated decisions about how to proceed with different issues that may arise in the coming months. According to the Law Office of Barbara B. Braziel  the bankruptcy process is as follows:
Prepare for your appointment. Gather 60 days of bank statements and pay stubs, a copy of your bills, and your last year's tax return.
Formulate a Plan. Your Lawyer will lead you through the process of filing for bankruptcy from start to finish. He/she will evaluate your income and expenses to create a plan that will work for you.
File with Bankruptcy Court. Once you have filed with bankruptcy court, an "automatic stay" immediately takes effect. This will stop creditors from making direct contact with you and will stop, foreclosure proceedings, repossessions, garnishments, and/or tax levies from the day of the filing forward.
Trustee Meeting. Approximately one month after filing, you will meet with your trustee. At this meeting, creditors can attend, but most creditors do not. Should a creditor have an objection, most are resolved through negotiations.
In a Chapter 13 bankruptcy, the trustee's role is to: examine your proposed Chapter 13 repayment plan and make sure it complies with all legal requirements. receive the payments you make under the plan and distribute them to your creditors in the manner required by law.
Shield Your Kids From the Drama
While bankruptcy can be traumatic for you, it can be a devastating issue for kids to deal with. Kids are typically too young to understand the complicated world of adult finances. They may not understand anything beyond the fact that you have no money, and they may worry about potentially being homeless, not having Christmas presents and other things. These are things that no child should have to worry about, so shield your kids from the drama as much as possible.
Keep in mind that it may have taken several years or more for your finances to reach the state they were in before you filed for bankruptcy. While bankruptcy can give you a fresh start, it will take several years for most people to rebuild their finances and credit rating after this process. Take each day one at a day, and choose to make intelligent financial decisions one by one. By doing so, you can improve your emotional state and your financial house alike.
You might also like:
Recommended by Amazon: