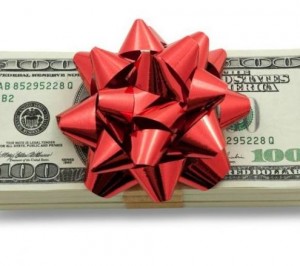 It can be tempting to not break your budget when buying holiday gifts. Between finding perfect gifts and buying for more people than planned, there are many ways to overspend. Here are six ways you can save money on the gifts you buy this year.
Make Your Own
Making your own gifts doesn't just save money, it also shows that you took the time and effort to make something for someone you care about. There are plenty of ways to make gifts, whether you enjoy baking cookies, creating a scrapbook, or making a photo calendar. You can get as creative as you want and even use the holidays as an excuse to start a new hobby like soap making.
 Give Free or Discounted Gift Cards
Everyone appreciates gift cards and this is one of the easiest gifts to give friends, family members, and co-workers who are hard to shop for. You don't need to pay full value for gift cards, though. Search for discounted gift cards online to save up to 25%. You can also earn free gift cards online by doing surveys or even playing games to save a bundle on your holiday shopping.
 Use Online Coupons
More and more people shop online for holiday gifts. It can be a great way to maximize your savings. Look for promo codes for lightinthebox.com to save money on everything from clothes to electronics. Online coupons can also help cut back the stress, since you won't have to go to the store to get the savings.
Use Smartphone Apps
There are dozens of smartphone apps designed to save you money, including several that can help you during the holidays. Some apps like Flipp show you all local ads and circulars so you can look for the best deals and even store local coupons. Apps like Slice, on the other hand, help you track what you spend on items so you can get the difference refunded when the merchant participates in price matching.
 Make a realistic budget
It's easy to spend more than you intend if you don't begin with a holiday budget. Start by making a list of all the people you plan to give gifts then allocate a specific amount to each person. Even if you find the "perfect gift," don't splurge if it will hurt your budget.
Use credit card rewards
If you have cash back or reward points stored up on your credit card, now is the time to cash them in to save on the holiday spending. While most card issuers allow you to use your points toward merchandise, this usually does not give you the best value for your points. Explore all of your options. You may get the best value by redeeming for larger gift cards or your card issuer may offer additional savings if you shop through a shopping portal at your favorite retailer.
While the holiday season tends to be the most expensive time of the year, you don't need to spend a fortune to show everyone you love just how much you care. These tips will help you cut back on your holiday spending.