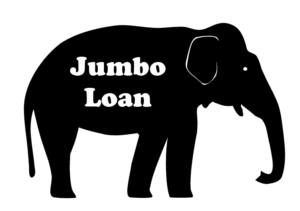 No, Jumbo Loans don't have anything to do with buying Elephants but they do have to do with large (or expensive) houses.  According to Investopedia, "A jumbo loan, also known as a jumbo mortgage, is a form of home financing for whose amount exceeds the conforming loan limits set by the Federal Housing Finance Agency (FHFA). As a result, unlike conventional mortgages, it is not eligible to be purchased, guaranteed or securitized by Fannie Mae or Freddie Mac. Designed to finance luxury properties and homes in highly competitive local real estate markets, jumbo mortgages come with unique underwriting requirements and tax implications."
The definition of a Jumbo Mortgage differs by location but typically anything over $424,100 (for 2017, previously $417,000) for a single family home is considered "Jumbo". however, in high cost areas like New York City, Los Angeles and San Francisco where the average home can cost more than $400,000 the limit can be as high as $636,150. Other slightly higher than average cost counties can have Jumbo limits above $424,100 but less than $636,150. For instance, Monterey County California has a limit of $575,000, Jefferson County Colorado has a limit of $493,350, and Fairfield Connecticut has a limit of $601,450. Outside of the continental U.S. (i.e. Alaska, Hawaii, Guam and the Virgin Islands) have higher limits. For instance in Hawaii limits can range from $636,150 to $721,050.  For a complete list of county loan limits, look here.
~ Tim McMahon, editor
3 Things You Need to Know About Jumbo Loans
If you're building or buying a large dream home, you may find yourself running into financing issues. Federal agencies Fannie Mae and Freddie Mac set limits on the amount of money that can be borrowed under a traditional a mortgage. If your dream home costs more than those limits, getting a conventional mortgage is challenging. Your only option may be a jumbo loan. These loans exceed the established borrowing limits than the government is willing to cover. There are some jumbo loan features that you need to be aware of.
The Down Payment
When applying for a jumbo loan, expect to make a higher down payment than you would with a traditional mortgage because they lack the government backing. Specific rules vary from one lending organization to another, but most expect jumbo loan applicants to offer a 20% down payment. You'll be asked to present evidence of financial reserves in addition to your down payment. It is expected that jumbo loan borrowers will have two to three months of cash reserves left after making their initial payment.
The Mortgage Payments
Due to the amount of money involved, jumbo lenders will limit the allowable amount of your monthly mortgage payment. This cap protects you from becoming house poor and increases the odds that you will be able to repay your loan. Of course, increasing the odds of repayment also protects your lender. It's important to keep caps like this in mind when considering loans and payments.
The Interest Rate
If you are shopping around for jumbo loans, and Google something like "Today's Lowest Home Rates", pay attention to the other loan terms, in addition to just its interest rate. Most jumbo loans are variable rate loans, which means your interest rate could change during the loan period. This is beneficial when interest rates trend down but can cost you when they're on the rise. Currently, mortgage rates are low by historical standards, so it is probably more likely that rates would go up rather than that they would go down. Fixed rate jumbo loans do exist, but they are extremely rare and difficult to find. If your heart is set on a fixed rate mortgage, a jumbo loan may not be for you.
As you can see, there is more to a jumbo loan than just more money. Always make sure you fully understand the terms and conditions of any loan you undertake, including traditional and jumbo mortgages. A jumbo loan is an excellent way to get you and your family into a larger home, but only if you are able to live comfortably with the loan's terms and requirements. Always remember that you'll be taking your mortgage with you when you move into your new home.
You might also like: